Implantology
We have more than 20 years practice in implantology. We are constantly improving in this field.
It proves the fact that we are able to successfully operate also very critical conditions.

Missing teeth can be seamlessly replaced by artificial dental roots made of titanium or zirconium, from replacement of one tooth to treatment toothless jaw with a fixture anchored on more implants. The treatment is carried out from the planning to the end with the latest medical procedures - from safe insertion of implants until the production and placing of highly aesthetic denture.


Regarding this subject we have provided for you a file of useful information. The basis for success in implantology is still an individual examination and careful case planning. This is done, as a rule, in close cooperation with your dentist.
The diagnosis shows whether there is enough bone to anchor an implant and what risks to be considered. If there is not enough bone there, or it is completely absent, we carry out the adjustments to allow the smooth insertion of implants. For this purpose serve surgical techniques such as:
Transplantation of bone blocks
augmentation of soft tissues and more see osteoplasty

Dental implants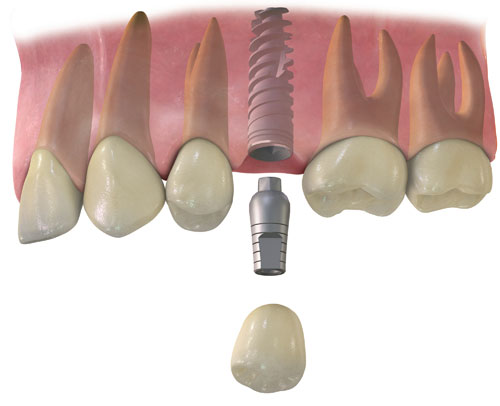 We use different types of implants by certified manufacturers with leading position on the world market, for example: NobelBiocare, T.B.R.- hybrid implants zirconium-titanium (France), Astra Tech (Sweden) and others.
| | | |
| --- | --- | --- |
| Replacement of a single tooth | Replacement of several teeth | Treatment of edentulous jaw |
Navigated (Computer Assisted) surgery in implantology
For the perfect implant we use a revolutionary method of planning and surgical treatment - computer-assisted surgery. The computer-guided implantology enables detailed, virtual implant planning with the chance of a minimally invasive implant positioning concept suitable for the prosthetic.
After the CT scan and data analysis is made, a precise surgical template is fabricated by special technology for implantation without cutting the gums. At the same time, it also enables the immediate use of temporary fixed prosthesis to the implant. This therapeutic approach is referred to as "teeth-in-an-hour.


It proves the fact that we are able to successfully operate also very critical conditions.